Flooring can be used to cover old floors or uneven surfaces. Many flooring ideas are available in the market, Like wooden flooring, carpet flooring, plastic flooring, and some more. They are all installed with different methods, some are complicated, and some are most easily even you can do it yourself. You may choose according to flooring type or your preference.
Moreover, there are many methods for flooring installation that professionals can use. The click-lock installation system is one of them that is mostly used for wooden flooring and is very easy to install. So, if you plan to buy click lock flooring, you need to know what click lock flooring is?
Below, we'll explain click lock flooring: what is click lock flooring, and how it works? And what its advantages are and all that you need to know.
Other Names of Click-lock Flooring
Click lock flooring also has other names, including click-together flooring, click-lock flooring, interlocking flooring, and snap-together flooring.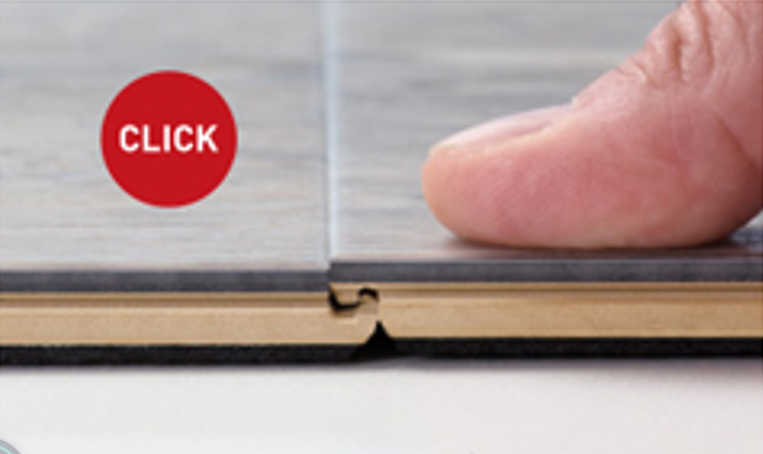 Click-lock System
Click system, also known as lock system, is generated by popular flooring brand marketing. Only wooden or hardboard flooring has this clock lock system.
Click lock setup is similar to the tongue and groove. Its two hooked shapes help to keep it stable and avoid movement during the walk. With underlayments, it will become strong, durable, and reliable and also become more comfortable.
Furthermore, Click wood flooring consists of multiple layers of adhesive together. The construction of the wooden click floor is unique, and it has a lock system. The wooden floor comes in the form of planks. Each plank has a lock system that individuals click together, and they don't require any other methods of fixing them together, such as with glue or staples.
Construction of Click Lock Flooring
Click flooring has an interlocking profile around the edge. That is why they easily click and lock together. Click lock wood floor comes with ⅜ inches to ⅝ inches thickness. The laminate and engineered wood have a click locking system.
In addition, Click-lock planks or tiles are put together, and as a result, you create a seamless surface. This system best applies to engineered hardwood and vinyl flooring.
Click flooring is the main popular reason it's only simply fit and can be dyed yourself. That is why this type of flooring saves your money and time and has long durability to get great results at the lowest price.
Which flooring types come in a click-lock system?
A wooden floor comes with a click-lock system, and many popular flooring options come in click-lock installation methods.
Vinyl__ except for the sheet vinyl, all the wooden vinyl types can be installed by a click-lock setup.
Hardwood__ many hardwood types have interlocking systems and specially engineered hardwood designed as a click-together system.
Solid Wood__ Now if we talk about solid wood, click lock flooring. It's not commonly available with the solid wood lock system; it is only available if its size is small and crafted by the cutting method.
Laminate__ often comes with a click-lock setup except for the laminate sheets. All wood laminates can be configured by the interlocking method. It is made with board wood and has paper finishing with different designs and colors and patterns. These are mostly used for bedrooms, halls, dining rooms, guest rooms, etc.
Engineered__ Thisclick wood floors are made of real wood such as veneer, but the laminate is not made with real wood; it only resembles real wood.
Click Lock Flooring Vs. Tongue and Groove Flooring
Groove and tongue is the best and traditional flooring fitting method. In this method, the edges of the same size planks fit together. It's a very simple and DIY-friendly mechanism. If we talk about it deeply, each wood plank comes with the same length and width and has two tongues and two grooves that fit like a conventional jigsaw puzzle. In the end, you will get a smooth, gapless surface.
Sometimes, professionals suggest using glue to make it secure, fit, and durable according to the surface situation. They also suggest nailing. Together or screw for permanent fitting. This tongue and groove fitting is mostly used for floating floors.
The tongue and groove method can install solid hardwood and engineered wood. The downside is that it can be challenging to install and need professional help to ensure it's perfectly installed.
Whereas the click-lock system Does not need to be glued, the main difference locks only each other without helping glue or nailing. The joints must be fit tightly, and they reduce the movement while walking. It also can be installed on existing surfaces and did not request to use underlayments.
If you have an uneven surface, they click the floor and must require an underlay to make it smooth and plan for perfect smooth fitting. Plus, an underlay also needs glue down before laying. However, it can be glued directly down to the subfloor. The click system is used in engineered hardwood, laminate, vinyl and bamboo flooring, and some more except solid hardwood.
Why do we choose a click flooring system?
Here we mentioned some advantages of click lock flooring. You will realize why you choose this type of floor.
Advantages Of Click Lock Flooring
Due to its simplicity and lowest price. This locking system has huge benefits that we mentioned below.
It can be installed without glue and nailing.
You don't need waxing oiling for finishing the hardwood. It already has a protective top layer that makes it waterproof, scratchproof, and gives a shiny look to the floor.
Easy to connect without applying any force.
It is always installed on floating floors, such as vinyl, laminate, engineer,d, and bamboo flooring.
It can be installed without underlayment but make sure the surface is cleaned and plain.
It is also installed on existing surfaces.
Your super easiest and fastest installation system is the interlocking system is the best option for you.
Due to its simplicity, professional fitting costs less too.
The interlock or click locking system is designed as DIY-friendly.
It doesn't require expert installation services.
It has great waterproof qualities.
With tight interlocking vinyl can last for years and be stable due to synthetic construction.
The two hook shapes snap together easily without any adhesive or glue.
Simple to install and avoid the mess of using glue.
Save money and time.
Easy to replace a damaged board with a new one.
Cons
This locking system has limited flooring style options. Reducing noise and underfoot softened click flooring requires a high-quality underlay.

Contact us for Click Lock Vinyl Flooring Catalogue and Price list.
Email to sales@fororee.com