Selecting the perfect vinyl flooring for home will become challenging if you have many varieties in choice. But if you decide which type of floor you need, wooden, plastic or carpet, you can easily choose one special of them. Suppose you settled with a Vinyl floor. You may easily choose wood species with color and pattern according to your interior, which flooring will best match your interior.
Vinyl Plank Flooring Basics:
Vinyl plank flooring consists of multiple layers that strongly emboss and resemble a wood plank. Some vinyl plank flooring is rigid, and some are flexible.
Basically, vinyl planks are made of three layers: core, design, and transparent top. The core layer provides textures, and the design layer gives a wooden or stone look, and the top layer is made of solid, strong plastic that performs excellent as water and stain-resistant.
Vinyl Flooring Categories
Vinyl planks come in different categories such as LVP, LVT, WPC, and SPC; these all fall under the vinyl planks products.
LVP usually has wooden looks and also has a similar size as the real wood planks have. While the LVT typically comes with a stone look, that is why it is called luxury vinyl tiles flooring. It comes with 1212 -1224 inches in size. They have a stone, marble look with different color patterns and designs.
WPC vs. SPC
WPC stands for wood polymer composition, and Spc stands for stone polymer composition. These are the two best rigid core luxury vinyl flooring constructed as a mimic of wood and stone. These types of flooring are mostly used for commercial areas. They appear as royal places and are highly durable for all purposes. The WPC is best for domestic use and has high expectations of waterproofing.
On the other hand, SPC floorings depend on stone and wooden base layers. SPC flooring has a core containing stone or marble instead of wood, and it is thinner and best suitable for high traffic areas and commercial applications. It's a more rigid flooring and uses a click installation system.
How to Install LVP (Luxury Vinyl Plank) Flooring?
There are many varieties of flooring, each flooring style creating a vastly different look. If you have planned to install luxury vinyl planks or tiles, they can be installed easily without cutting and laying down in an array of patterns that you prefer to install. Luxury vinyl planks can be installed with a click-lock system and a glue-down method.
Which Material is Used In Rigid Core Floors?
Rigid core flooring is made of solid polymers that have excellent features like high scratch-resistant, easy to install, strong durability, etc.
For commercial space, rigid cores are the best choice for you due to their hardness, strong structure that will last for years. Rigid core vinyl flooring is also helpful in noisy spaces like hotels, joint family systems, etc. Its solid polymer core helps control sound transmission and ensures floors look newer, durable, and elegant.
Reasons to Buy Rigid Core Vinyl Flooring Planks
It can eliminate the need to acclimate the product.
In a short time, you can remodel your home.
Superior indent resistance
They are easily installed on uneven surfaces.
Best for high traffic areas
Easy maintenance
Great water and stain-resistant qualities.
It requires less cleaning time
Super Versatility
Rigid Core Vinyl Flooring Structure
Approx 20 mil wear layer
Uterine coating
Printed photographic images
The dense solid polymer core composition
Glue Down and interlocking installation
Varieties in colors of Rigid Core Vinyl Planks Flooring
Wooden Tones
Neutral
Brown-red
Gray and black
White wooden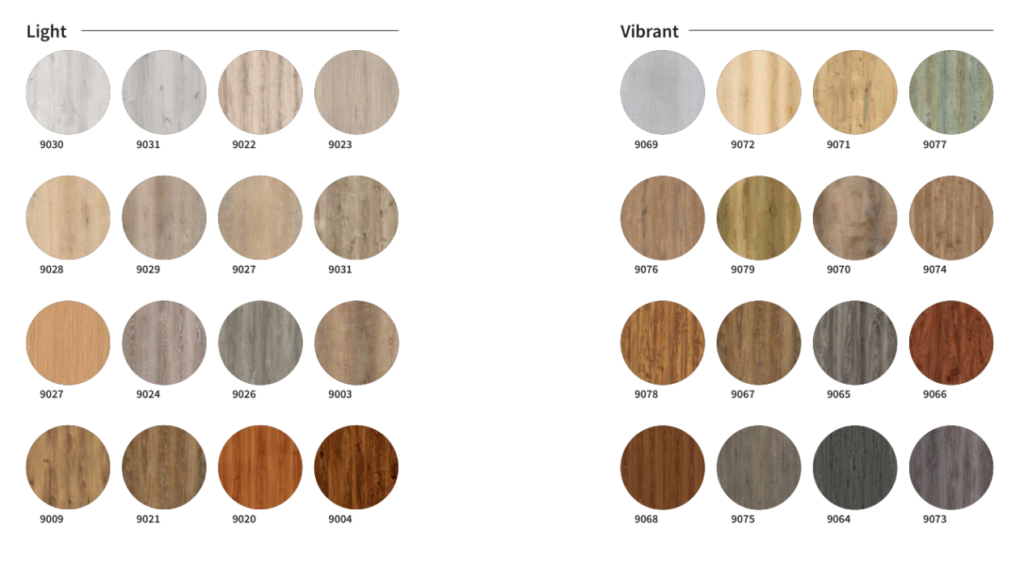 Below color are mostly used in small and short plank like 610×310 such, less use in long distance plank.
Qualities of Luxury Vinyl Planks Flooring
Our Luxury vinyl plank flooring is 100% waterproof, water-resistant, and comfortable underfoot. It is perfect for any room in your house because it has excellent Antibacterial properties and gives you hygienic environments. The cleaning and maintenance are effortless, so that's why this will be the perfect choice for your family, even though it's good for kids and pets.
Luxury Vinyl Product Size
Our LVT flooring offer different size is

Dry Black Series Structure
Uv Coating
Wear-resistant layer ( water and stain resistant)
Design Film ( Printed Real Wooden Look)
Stabilization Layer
Fiberglass Mesh
Click System Vinyl Core (Solid Wood structure)
Acoustic Cushion Backing
WPC Products Size Offering
We have high-quality WPC in different sizes
WPC Click System Series
Uv coating
Wear-resistant layer
Design Film
Stabilization layer
Rigid WPC core
Acoustic Cushion Backing
SPC Products Size Offering
Here are some sizes available of SPC flooring that are

SPC Click System Series
Uv coating
Wear-resistant layer
Design Film
Rigid WPC core
Acoustic Cushion Backing
Customize your Flooring : sales@fororee.com