A beautiful floor plays a vital role in increasing home beauty. If your home is fully organized, but your floor is not clean and uneven, it looks bad to everyone who looks first to the floor. It would be best if you had a vinyl floor. It's an easy and budget-friendly option for a quick transformation and does not require daily maintenance. That's why it's become more trendy worldwide. Even most commercial places use vinyl sheets for enhancing the luxury look of the spaces on a low budget and with fewer maintenance benefits.
How To Buy Vinyl Sheet Flooring?
It's a versatile, wallet-friendly flooring transformation for any place, including bedrooms, bathrooms, kitchens, gyms, cafes, sports areas, etc.
A high-quality vinyl sheet made with highly resilient vinyl and a durable backing, such as fiberglass. They come in different sizes, styles, and colors options, and these flexible sheets provide continuous flooring coverage. It's a perfect option for businesses, homes, and even high-traffic spaces.
Why Does Vinyl Sheet Roll Better Than Planks?
A vinyl sheet comes in different forms, such as vinyl planks, vinyl tiles, and vinyl sheet flooring rolls. So, everyone wants to know Why vinyl rolls would be a perfect fit for your space?
Honestly, the main purpose of choosing vinyl sheet rolls is that people love this affordable, stable, practicability, repairability option. Even it is easy to install and doesn't need huge maintenance every day compared to other floors.
Plus, they also provide a comfy environment and give a softer feel to your feet when you walk on the vinyl sheet than tile or wood. As well as in winter, it's warmer, too. This is the best option for pets, children, and older people. There are no achy joints even if you walk all around the day.
What is the Difference Between Heterogeneous and Homogeneous vinyl?
Heterogeneous Vinyl
Heterogeneous vinyl is constructed with multi-layer vinyl that contains a printed top layer with huge versatility in design and provides long-lasting durability and low maintenance cost. Our heterogeneous vinyl flooring performs perfectly in all application areas. We offer slip-resistant vinyl, acoustic vinyl, and loose lay vinyl.
Below we show our varieties, see the images and explore our extensive range.
Total Thickness:2mm
Wear layer Thickness 0.3mm
Foam Thickness: dense bottom
Vinyl Roll Width: 2m
Vinyl Roll Length: 20m
Homogeneous Vinyl
Vinyl is the most popular flooring choice among other flooring options due to its less maintenance, high durability, cheap price, and versatility. Homogeneous vinyl is made of one single study layer that offers vibrancy and depth of color. The thickness of this homogeneous vinyl provides incredible durability and stain resistance, making it a great flooring choice for heavy traffic areas like hospitals, companies, gyms, malls, etc.
Total Thickness:2.0mm
Vinyl Roll Width: 2.0m
Vinyl Roll Length: 20.0m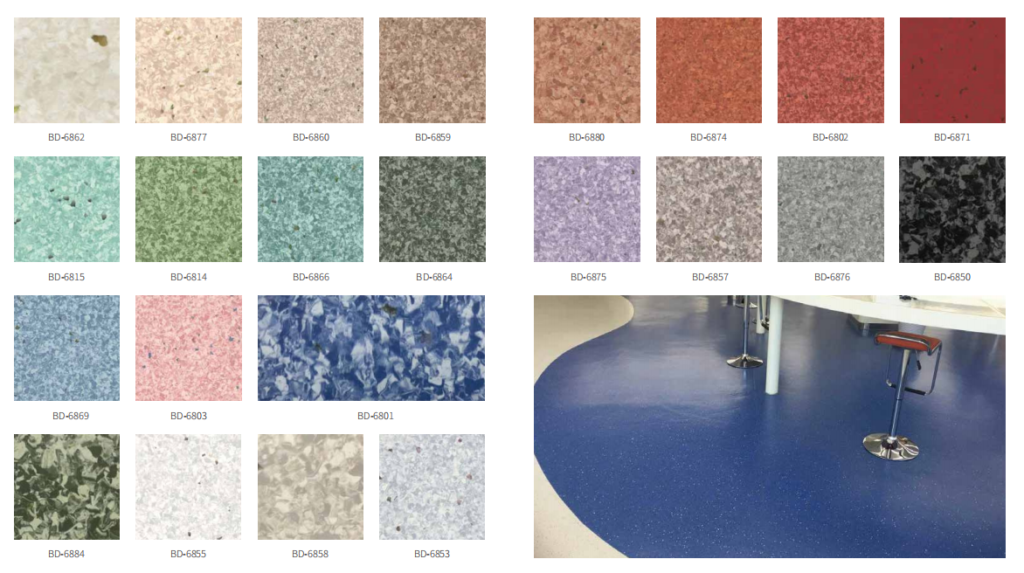 What is a Vinyl Sheet Roll?
Vinyl rolls are also known as heterogeneous vinyl because this is made of multi-layer vinyl with a printed top layer. The vinyl roll comes in large lengths and widths, and there are usually very few seams when installed. Vinyl rolls are flexible and therefore usually recommended in wet and moist areas such as the kitchen, bathroom, and laundry.
Moreover, vinyl sheet roll is an affordable and durable flooring option with lots of design options with brilliant colors, texture, and even perfect reproductions of natural materials such as wood and stone.
How is Vinyl Roll Flooring Constructed?
vinyl sheet roll is made up of several layers
Fiberglass core
a foam or polyester backing
a transparent wear layer
Polyurethane (PU) treatment layer
The compressing layer helps to make it durable and prevents any scuff, scratches, and stain resistance. Plus, a foam or polyester back layer makes the floor warmer and insulated. The construction of each vinyl roll product will determine how easy it is to clean, and our vinyl floors stand up less maintained, affordable, and durable.
Our vinyl sheet roll flooring also offers a softer feel under the foot and never causes any heels pain after walking all day. It's waterproof, Hardwearing, and easy to clean. Our vinyl roll sheet flooring has very low VOC (Volatile Organic Compounds) emissions and is 100% phthalate-free.
Are Vinyl Rolls And Linoleum the Same Thing?
The terms vinyl roll and linoleum ( or lino for short) flooring are not the same things. They are completely two different products. They are often used interchangeably. But they're highly resilient, durable, easy to install, and most commonly used for bedrooms, living rooms, etc. However, the main key difference between Linoleum and vinyl flooring is the magnificence and how they are installed.
Vinyl flooring is made with multiple layers and is composed mostly of PVC. On the other hand, the linoleum flooring is constructed With a single layer of natural materials, primarily linseed.
One layer of vinyl flooring is the "design layer" upon which decorative designs are printed and embossed. This has huge varieties in color and design you can choose according to your needs. Some vinyl also has a textured design that looks like a mimicking such as real hardwood and natural stone.
With Linoleum, the designs are not printed on the separate design layer; it is embedded throughout the materials. That's why Linoleum has limited the scope of design and color options.
Installation and maintenance are another key difference between vinyl and linoleum flooring. If we talk about vinyl, as we know, it's much easier to install and maintain than linoleum flooring. Actually, linoleum flooring mostly comes in sheet form, which requires high adhesive on all floors. And it's a difficult task as a DIY project and usually requires a professional installer.
On the other hand, Vinyl roll flooring is much easier than dye work and can be installed in different methods. It depends on you which suits you best.
The maintenance of Linoleum takes a little more effort; it doesn't hold up against moisture and wears quite as well as vinyl because a linoleum product is constructed with natural materials and therefore much more susceptible to damage from water and cleaning products.
That's why before installation, it requires specific cleaning products recommended by the manufacturer. Also, we don't recommend installing Linoleum in the bathroom and laundry. And the vinyl can be installed in any room of the home and can be cleaned with regular household cleaning products.
Why do Customers Choose Vinyl Sheet Rolls?
A vinyl sheet roll comes with bonus features, so keep reading below about customers' favorite vinyl sheet rolls.
Bonus Features of Vinyl Sheet Rolls
It's a pack of huge benefits, and that's why it's the topmost product all around the world due to its lower price, design versatility, thickness, warranty, and more.
Key features of vinyl sheet
This is Made from PVC
Vinyl has excellent resistance to impact, moisture, and abrasion.
It can be installed over old, uneven, or painted subfloors.
helps to Cover cracks
Highly water & mold resistant
Last for years.
Floating or gluing down
Moisture Resistance
The waterproof option makes it great for kitchens, bathrooms, living rooms, laundry, etc.
It has the capacity to control dust, and you can feel heath breath in any condition. It's skin-friendly and Allergy-Friendly.
Vinyl sheets are the perfect solution for pets because their thickness is enough to prevent scratches on the floor, and they are water-resistant too.
Its anti-slip properties won't slip and slide paw, and the textured surfaces give a comfy environment to your pet which is always cozy and feels at home.
Vinyl sheet Comfortable feels underfoot.
The table below will help you find the perfect match for your floor.
Types of Sheet Vinyl
Before you start learning about vinyl sheet rolls, it's important to know about the different types of vinyl. Each type is designed for a certain use that offers different durability.
Sheet Vinyl,
Self-adhesive Vinyl Tiles,
Vinyl Plank
What makes vinyl sheet types unique, and how you should use them.
Fiberglass Construction
Felt Backed Vinyl / Core layer
Texture/Definition layer
Vinyl Roll Styles
Today in the market, vinyl rolls are most demanded because they come with huge varieties of styles and patterns that catch your eye and encourage you to buy this immediately. This vinyl sheet roll also has a stone and wooden look with a detailed design. These decorative rolls manufacturing have created the most realistic sheet vinyl flooring you've ever seen. In fact, some of it is so convincing and amazes you with its realistic stone and wooden look. Best of all, you can find various colors with contrast and plain design so that you won't have any problems matching your style.
Patterns and Wooden-Looks
Wooden look vinyl sheet roll_ these vinyl rolls are an affordable and realistic wooden look that also has texture surfaces that go with the grain of the wood to appear and feel like actual wooden floors.
Ceramic-look
Basically, you can get an excellent transformation with a trendy look of ceramic tile at an affordable price. That will also offer a pattern look and texture too, and some of them come with grout lines.
Stone-look Vinyl Roll
Finally, you will get a stone tile look with texture and pattern, which helps match your home decor with flooring styles. Some of the stone look sheets have grout lines. So, you can decorate your place with a luxurious and stylish view in small amounts.
Decorative Vinyl Sheet
Sometimes people don't want a natural look. They need decorative styles, especially for commercial use like gyms, malls, or a restaurant. So, decorative vinyl creative styles attract everyone with unique patterns and color combinations.
How Many Sizes Options Does a Vinyl Sheet Offer?
The thickness of vinyl depends on the thickness of the wear layers. Wear layer comes in different sizes that we enlisted below.
Moreover, Vinyl sheets come in thicknesses from 4mm to 8+ mm. Thinner vinyl is more easily damaged, and it depends on the thickness of vinyl because it's made of PVC that can be used in washroom kitchens. Also, that's why all vinyl flooring is water-resistant. Higher quality products repel water for longer periods.
General Vinyl Sheet Roll Thickness Rule:
| | |
| --- | --- |
| Vinyl Thickness | Suitable For |
| 2mm-4mm | Low traffic areas bedrooms or laundries |
| 4mm-6mm | Heavy traffic areas kitchen, living room |
| 6mm-8mm | Best for commercial use like offices, banks, restaurant |
4.5MM Thicker Vinyl:
It's best for residential and commercial applications.
5MM Hidden Interlocking:
This has watertight hidden locking tabs for a seamless, elegant look. Great for both commercial and residential flooring.
5MM Commercial Tile:
This is one of the heavy-duty tiles and is great for residential and commercial use.
7MM Industrial Tile:
Heavy equipment tiles are great for high-traffic areas.
Thicker Vinyl # More Durable
Because a thicker vinyl doesn't make it more durable this is what the wear layer is for.
The wear layer helps to protect your vinyl flooring from dents, scratches, stains, and water damage.
For vinyl wear Layer Thickness
| | |
| --- | --- |
| Wear Layer Thickness | Suitable For |
| Thicker than Regular | High durable for heavy traffic areas, living room kitchen, hallway |
| Thinner Layer & Thicker Vinyl | Extra Comfort in low traffic areas, bedroom |
10MIL:
The 10 Mil thickness of wear layer is commonly used for home and perfectly fits bedrooms. Even if you have pets and other animals, this 10mil wear layer of the vinyl sheet will help to protect you from any scratches and other challenges.
12MIL:
This wear layer is mostly considered when you need high-quality strong vinyl for both high and low traffic areas.
15MIL:
This wear layer thickness is a great option for the toughest floor, such as RVs and high traffic areas. The quality of consistency can bear even mobile traffic like mobile homes, trailers, etc. But some people installed this flooring for extra flooring protections.
20MIL:
This buffer helps to protect toughest challenges, such as its best option for busy homes, like offices and banks, or for those areas where there are lots of pets living. With high-quality, sturdy layers, these sheets will shine in commercial spaces, RVs, and even trailers.
How Many Ways Do You Install Vinyl Sheet Rolls?
The main advantages of vinyl sheet rolls are that they can be installed in kitchens, bedrooms, washrooms, laundries, etc. These sheet rolls are cut according to your space's dimension and installed in different ways, and this is the best and best dye-friendly option for everyone due to its easy installation methods. You can install vinyl sheets in the following ways. Depending on which type of vinyl sheet you get, you have a couple of installation options.
All in all, how to install them, the experts recommend the best result. Vinyl sheet rolls mostly come with a 12 inches width size that can cover a large space. Due to its largest width, it's sometimes difficult to handle applications properly unless you have the right experience.
Glue & Adhesive Installation
Polyurethane Adhesive
SprayTac Adhesive
Loose Lay Installation( floating installation)
Interlocking Vinyl Flooring ( for wooden and stone vinyl tile )
Peel & Stick Vinyl Flooring (Plank's and Tiles Vinyl flooring)
How is a Vinyl Sheet a Healthy Option?
Vinyl sheet healthy breathable flooring option. However, if you're considering removing and replacing an old floor or old vinyl flooring so you can buy an at-home asbestos testing kit or hire a professional to test it. If asbestos is found, you must have a professional remove the toxic flooring; do not under any circumstances tear it up yourself.
Papular Vinyl Sheet Color
Gray Vinyl Flooring
Off-White Vinyl Sheet Flooring
Black Vinyl Sheet  Flooring
White Vinyl Flooring
Brown Vinyl Sheet Flooring
Multicolor Vinyl Sheet Flooring
How Many Styles of Vinyl Flooring?
Coin patterns tiles
Diamonds pattern tiles
Natural stone LVT
Wooden grain LVT
Patterned tile LVT
Leather-look Tiles
Slate tiles
Industrial Tiles
Lock Tiles
Custom printed Tiles LVT
And many more

Which Purpose Do We Use Vinyl Sheet Flooring?
Vinyl sheets are great for all purposes and highly durable for all types of places. Vinyl flooring is great for warehouses, garages, basements, washrooms, kitchens, bedrooms, laundry, workshops, banks, offices, retail stores, factories, mudrooms, schools, universities, colleges, play areas, trailers, car shops, firehouses, and many more.