Everything needs makeup for a fresh and attractive look, like the wall, and they also need touch-ups to enhance the beauty of the home decor.
Do you know? PVC materials are readily available and inexpensive. Only 50% of PVC products are used in construction. This is the best alternative to wood in many interior decor-related items.
Germans introduced PVC wall panels in the 1970s as a home decor material. PVCs have a clean, plain, and smooth surface and excellent finishing, making them durable and easy to clean compared to other wall panels materials.
What Does PVC Mean?
PVC is a strongly constructed, versatile, and low-cost plastic material that is easy to use and easy to carry due to its lightweight. It's also easy to bond and weld while using thermoplastic welding equipment. PVC is mainly used for valves, tanks, flooring, wall panel, and piping systems.
Below are the types of PVCs that are
Normal PVC Type
Clear PVC Type
Standard PVC Type
High PVC Type
What is a PVC Made Of?
The term PVC stands for polyvinyl chloride and formula (CH₂-CHC). ) This is a thermoplastic made up of 57% chlorine and 43% carbon, and the corrosion-resistant material is very flexible. The reason for its popularity is only because it's easily molding and inexpensive. PVC also has the ability to tolerate medium temperatures though it is not an excellent material for high temperatures. This is also considered a sophisticated polymer because of its cost performance advantage.
What is a PVC Wall Panel?
PVC wall panels are made of high-quality plastic material that comes in various designs and style collections. They also have different texture and thickness varieties with different price tags.
PVC wall panels are more trendy nowadays that create a luxurious look in your home. This is mainly installed in commercial places like restaurants, hotels, malls, schools, colleges, shops, etc.
They are more demanding because you will get highly durable, water-resistant, water repellent, and mildew resistant products for your home in an affordable price range. Many home and commercial residents face these water mildew and water repellent issues, especially in bedrooms and living rooms.
What Are The Key Features of PVC Wall Panel
Thermal resistance
Long durability
Water-resistant
Seepage solution
Mildew resistant
Affordable
Light reflection ratio of 55 to 81%
Standard Thickness 7mm
Easy to install
Wipe off easily
Required low maintenance
Avoid from fire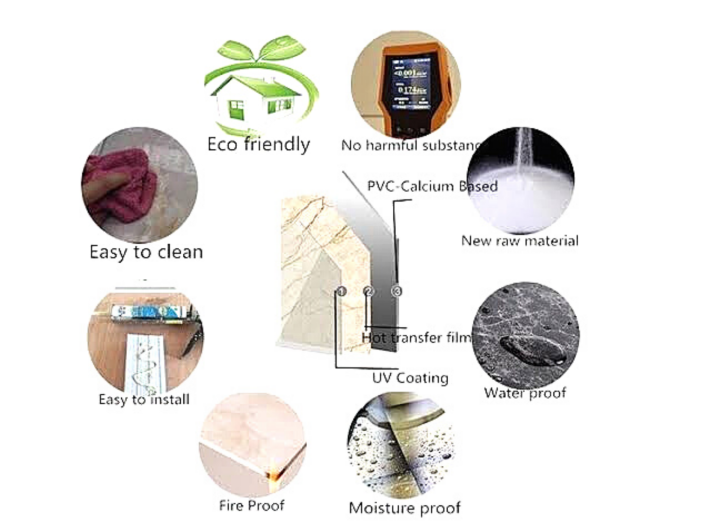 How Many PVC Wall Panels Come in Styles?
Tile effects
Wood effects
Marble effect
Brick effect
White ash matt
White brick effects
Sparkle
Ceiling panel
Which Purpose is Used For PVC Wall Panel?
These panels are also used to create a high amount of consumer goods, including toys, bottles, bags, art, flooring sheets, sports equipment, and many more. That's why it's cheaper due to high usage and has become the third-most widely used plastic in the world.
You can use PVC panels for different purposes. These are perfect choices for the overall house ( bedroom, living room, washroom, kitchen, laundress, garages, and basements. These are also installed in schools, colleges, banks, hotels, cafes, sports spaces, and play areas. PVC panels are more powerful and durable, and trusted products than paint.
Why Do We Choose PVC Wall Panels?
Because of its highly durable properties and quality, the material gives a softer look than other wall materials like ceramic, brick, or stone. Below we show some reasons to say yes to PVC wall panels.
5 Reasons to Say Yes to PVC Wall Panels
Great Alternative:
PVC panel is used for both wall panel and ceiling panel purposes. They Come with huge versatility in design and style and also can be used as an alternative to gypsums. PVC panels replace wall tiles in the washroom and as a decorative wall cladding instead of materials such as MDF or wallpaper. So, if you are searching for a good alternative, then the PVC wall panel is the perfect choice for you.
Versatility:
The other is that PVC comes in huge versatility in design and in multiple options in styles, patterns, and textures. These are also available in 3D printing design with beautiful decorative looks. The PVC sheet also has small, medium, and large sizes, and the small size sheet joints may be visible during installation. In contrast, the large PVC sheet looks naturally seamless to the overall wall design. Unfortunately, the PVC wall panel and ceiling can sometimes have a plastic look depending on the design and colors you choose.
Durable & Lightweight:
You will undoubtedly get a highly durable and lightweight product in a low price range. It's strong enough for all the toughest areas of installation. The high-quality factory manufacturing material makes its way to installation. It is easy to carry from one place to another, easy to wipe off first, and does not create a dusty environment during installation. PVC wall and ceiling panels can last for decades without warping or bending.
Water Resistant Qualities:
PVC panels are highly water-resistant whether you use it for the ceiling and walls. The chemical's magnificent properties make it waterproof and best suited for cladding the walls or ceiling of moisture-laden areas such as a basement, garage, or bedroom prone to dampness.
These panels are installed through an interlocking system, with a one-panel edge fixed to another and resistant to the water. Another advantage is that PVC panels prevent your walls and ceiling from mold or mildew growth.
Budget-Friendly:
PVC panels are cheaper than other ceiling and wall decor options. They also offer recyclables. The fantastic thing about these panels is that they do not need further applications after installing the PVC wall panel. Once installed, the wall is ready to use without needing other fining requirements like paint or varnish.
The PVC panels are installed by tongue and groove methods which is a quick and easy installation method as compared to others. You can also replace the damaged part of the panel with another one. However, it's an easy-to-use and affordable option that lasts for years.
Low-Maintenance:
In terms of maintenance, you are free of the tension of daily maintenance. It's effortless to clean with one wet wipe. The polyurethane layer on the panels makes it smooth and plain and prevents any accumulated dirt. These panels are also highly resistant to fading due to sunlight because the wall has a magnificent non-titanium dioxide component. We recommend using only energy-efficient LED lights because these panels are not resistant to temperature. They only support medium temperature levels, so avoid using heat emitting lights for ceilings and walls. They may damage the wall panels.
What Are The Kinds of PVC Wall Panels?
PVC wall panels come in different types, and we enlisted details of each below.
PVC Foam Board__ this material is made of pressing PVC Foaming with additives. The thickness is high due to the foaming base material. These are available in 1mm to 20mm thickness. But mostly 4_6mm used for home wall paneling. This foaming board PVC has 1.22m to 2.05m in width and 2.44m to 3.05m in length. They also have considerable varieties in vibrant colors and shades. Mostly 6mm foaming boards are used for wall cladding that helps to protect the wall from Snow, rain, hail, and sunlight. They also are good insulators for rooms and also helpful in reducing the intensity of external sound.
PVC Sheets__ these types of PVC come with a longitudinal grid which helps to provide strength to the sheet and make it lightweight. Therefore this PVC sheet is also known as PVC lightweight wall panels.
PVC wall panels have edges with an interlocking system. This type of installation helps to control water flow from joints. The joints are completely locked. These sheets come in different styles like wooden, groove, and patterns. They ensure that the joints are never visible. In any case, you can choose any design without any doubt. Most PVC wall panels come in the size of 8mm thickness.
Here are some design varieties
Wooden patterns
Golden Stripes
Solid Colour
Marble Textures:
3D PVC Wall Panels__ is an excellent type of PVC panel and extremely durable and robust for any place. These PVC panels have embossing effects. These designs come with a 3d effect by creating light depth in the wall. They increase the home decor look and transform into a luxurious and contemporary look to space.
What is UPVC?
UPVC stands for unplasticized polyvinyl chloride. These are sturdy and harder products than a PVC and less volatile products for extremely good wall panel manufacturing.
This comes with safety certification and is built as it is fire resistant. Unfortunately, UPVC cannot be compared to brick, stone, or tiles regarding rugged wearing durability. But the reason for using UPVC rather than PVC is to avoid chlorine in environments, and it comes with fire and scratch-resistant features.
PVC wall panels come with different printed designs and textures and mimic tiles, marble, and stone. But it does not give the tile and marble look to the washroom walls. The joints of PVC are natural and don't show the joints of panels, but they indicate the artificial nature of the product.
If you use UPVC, they are highly durable and may last for hundreds of years, whereas PVC it's only long-lasting for decades and requires maintenance points from time to time. While the PVC, only light scratches will affect appearance over time.
PVC Wall Panel Vs. Wood Cladding
If we compare PVC panels to wood cladding, the wood is more durable than PVC but requires regular daily maintenance. Once wood cladding is installed, it is often impossible to renovate and may need replacing.
On the other hand, the PVC wood effect wall panels will have a limited lifespan and do not require maintenance.
What is the cost of a PVC wall panel?
The main reason for choosing wall panels compared to traditional tile and marble decorations is that it's easy to install, durable, and remarkably cheap in price. The PVC wall panel comes in different designs, styles, textures, and types. They also come in different thicknesses and sizes. A wall panel has 0.2m, 0.5m, 5m, and 10m thickness charts, and A 10mm thicker and 1m shower panel is available in cost. Basically, the high thickness, like 10m ×1m shower panels, are more durable than other thicker panel varieties.
Is PVC Wall Panel Available in Different Sizes?
We offer different sizes of wall panels, which start from 250mm wide to 1200mm. It also has various thickness options, and the 5 mm thick and 2.4m to 2.6m in height is the standard thickness option for home wall decor. The tongue and groove system installs this. This application method is straightforward and creates a seamless, waterproof joining point. These panels are available in different styles like stone, marble, wooden, and sparkle effects.
Why Are PVC Panels Considered Harmful?
PVC is a well-known plastic that may have a negative impact on the environment. Due to its chemical composition like dioxin.
It is well known that it has a negative impact on the environment. However, PVC has one of the worst. Some of the most prominent chemicals in PVC, including dioxins, pose several health threats. PVC production requires many chemical reactions that can enter the atmosphere. Through the reach, the production of PVC is harmful. The decomposition also affects the environment, soil, and groundwater.
What does PVC-Free Wall Paper mean?
A PVC-free wallpaper is an alternative option for PVC panels. It's not like a typical PVC vinyl wallpaper. It's safer than other wallpaper, and it's magnificent through high-quality materials. The main pros of this PVC-free Wallpaper are that it doesn't emit toxins and other chemicals like PVC does. PVC-free wallpaper procedure is a standard and safest procedure that meets health first, and they also have a safety certificate from the green guard.
What Are The Wall Paneling Materials?
There are the top 5 materials for home decor. They come with textures, colors, and character, making the wall modern and hiding exposed wiring. Some of the wall materials are highly durable. Whether you use them for ceilings and walls, they give you excellent looks at your home at a low price. Below we enlisted some of the best wall paneling materials available in the market.
Natural Wood Panels
MDF Panels
Gypsum boards
Upholstered Panels
PVC Panels
Glass And Mirror Panels
Benefits of Using PVC Wall Panel
Here are some benefits of PVC wall panels that will encourage you to buy this immediately.
PVC is highly durable and lightweight
Very convenient while installation
It has impeccable tensile strength and impact resistance.
It's a readily available and inexpensive polymer
PVC also has excellent water-resistant and mildew-resistant properties.
Easy to clean
Best suitable for residential and commercial use
It comes with huge versatility in design, color, texture, and pattern styles.
Good insulator
What are the drawbacks of PVC Wall Panels?
The PVC wall panel is a highly demanding product in the market due to its lots of features and low price range. But with a low price tag, everything has some disadvantages. That's why PVC wall panels also come with a few drawbacks. The drawback comes when choosing a wall panel for different areas like bedrooms and living rooms. It's the best option for you, but the transition choice is wall tiles for the kitchen and washroom. Pvc wall panel not quite compared to traditional methods.
Before comparing PVC wall panels, We should be concerned about the drawback of plastic.
The main disadvantage is health because the magnification of PVC is through chloride, which is a violent element that causes some health issues. Sometimes chlorine may be released from the PVC products in minimal amounts that seldom have any adverse health implications. Overall, PVC is the best option for wall maintenance, but the only downside is chlorine.
Next, we talk about its scratch-resistant properties. It's not entirely scratch-resistant, the main disadvantage. So, this does not go longer if you use it for pet space and children's play areas. We recommend choosing a UPVC wall panel made of high-quality material that makes it ultra more robust and durable for traffic spaces.
Except PVC Wall, there could be also PVC Flooring.