Ceramic tiles have quickly become one of the most popular materials used in homes, but homeowners often don't understand precisely what they are. Ceramic tiles are made from sand, natural products, and clay, moulded and fired in a kiln. They may not be shiny when making ceramic tiles, but most homeowners have glossy ceramic tiles in their homes. As its popularity grows, ceramic tiles come in hundreds of different designs. If you're considering flooring replacements, it's essential to consider the benefits of using these tiles in your home.
Ceramic Tiles Specifications
Ceramic tile manufacturers can use their mixtures of elements to manufacture their products. But all of these mixes usually contain sand, feldspar, quartz, and clay mixed with water. These ingredients are mixed in a mill to produce a substance called body slip. Body slides look like powder or dust and are compacted into ceramic tiles using a high voltage electric or hydraulic press.
While some ceramic tiles remain unglazed, most ceramic tiles are glazed with a vitreous substance containing a mixture of pigments that give ceramic tiles their colour and surface properties.
There are two specific types of ceramic tiles for outdoor use. Vitrified tiles have very low porosity and are treated to be durable and stain-resistant. Impermeable or porcelain tiles are fired at very high temperatures and are therefore very dense. Porcelain ceramic tiles are highly impact-resistant to minimise damage.
Both tiles can withstand freeze-thaw conditions for outdoor applications. Other special types include pre-grouted ceramic tiles. They are supplied in large pre-assembled sheets by the manufacturer for quick installation.
Why do we Use Ceramic Tiles?
Ceramic tiles are similar and often compared to regular porcelain tiles. However, an important difference between the two helps you choose the type of tile to install in the room. Here are some reasons to use ceramic tiles:
1- Stable and Durable
Ceramic tiles are one of the most durable types on the market and can last about 10 to 20 years with proper care. You don't have to worry about cracks or dents in heavy furniture as it takes a lot of weight to break the ceramic tiles. This type of tile is durable enough for commercial areas, durable and scratch-resistant, making it an ideal choice for rooms and high-traffic areas.
2- Easy to clean
Unlike other types of flooring, one of the advantages of ceramic tiles is that they don't easily attract dust, dirt, pet hair, mites, or pollen like carpeted floors. This is more advantageous for those concerned about dust-related allergies.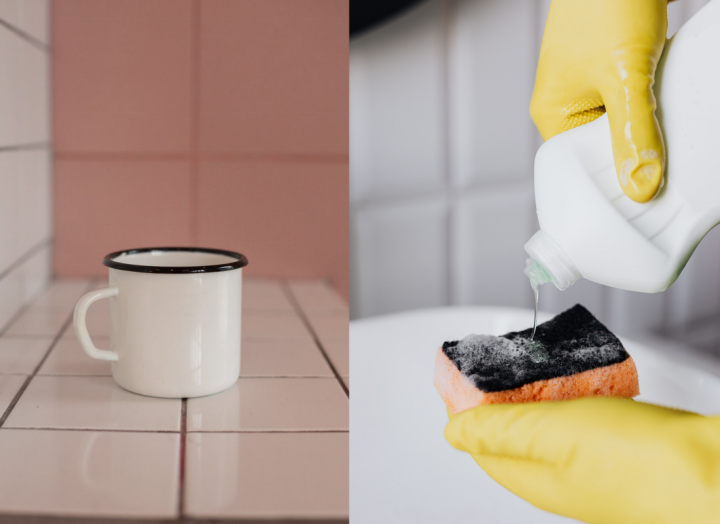 And since this type of flooring does not attract dust, the air in your home will also be cleaner and healthier. Therefore, unlike carpeted floors, ceramic tiles reduce airborne allergens and protect the home from irritating particles that can cause problems for people suffering from asthma and allergies.
3- Easy to set up
Laying ceramic tiles requires some capacity, so it is recommended that you use professional construction services to install the tiles in your home. However, most people can do this on their own. The materials are relatively easy to work with, so some tutorials can help you understand how to lay tiles in your home properly. This advantage is valuable if the floor is cracked. You can easily replace broken tiles yourself, so make sure you have spare tiles.
4- Versatile Design
Another advantage of ceramic tiles is that they come in various styles, patterns, and designs. This is great if you need different looks in different house parts. Manufacturers offer various options, finding new and innovative ways to create new patterns and produce ceramic tiles.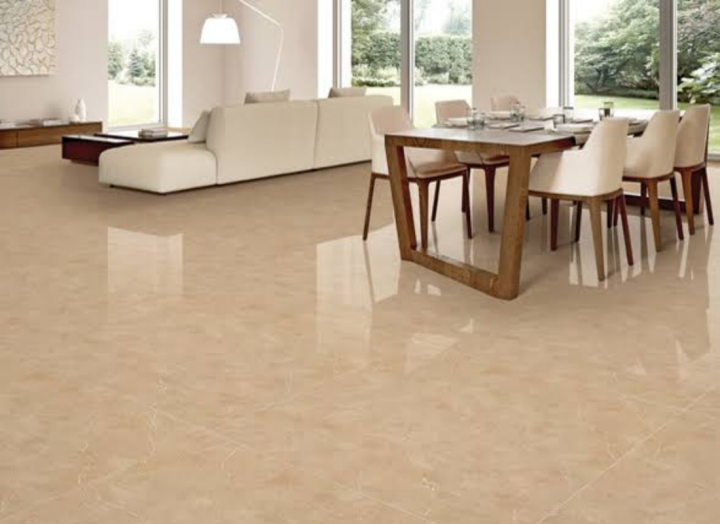 Additionally, this type of flooring can be cut into different shapes and sizes to fit anywhere in the house or provide a unique style. You can also recreate the look of more expensive tiles such as hardwood and natural stone, giving you the look of expensive floors without breaking the bank.
5- Budget-Friendly
One of the main advantages of ceramic tiles is that they are more affordable than other types of flooring. Costs range per square foot is reasonable, making them ideal for larger spaces. This type of tile uses less refined clay and is generally less expensive than similar options like porcelain tiles. Ceramic tiles have a short lifespan and will last a long time without repair or replacement.
Ceramic Tiles Demand in The Market from Last Previous years.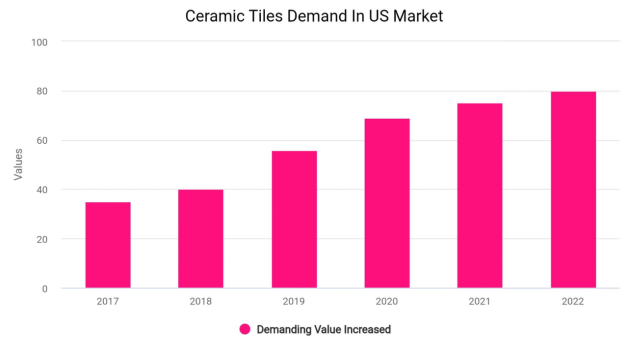 Why do People Avoid Using Ceramic Tiles?
Everything has advantages and disadvantages. Once you have the drawback, you can make decisions best on which floor type suits your place in a current situation.
Temperature:
Unfortunately, ceramic tiles are cold during winter. Of course, it's quite unforgivable for those areas where the climate is mostly cold. Otherwise, if you like only ceramic floors, then the rug will solve this issue and make the floor comfortable for those with bare feet.
Hardness
As you know, ceramic construction is strong and unbreakable. That's why it's hard enough that a heavy glass can not break if dropped on a floor. In addition, the ceramic tile has 0% flexibility. But if an extremely heavy item is dropped on the floor, it will break or crack.
Permanence
The other main drawback is that it does not change if the decorating styles and trends change often. Once it's installed, it cannot be changed. If you are fed up with the boring and old design, it will require costly renovation for the entire floor. Remove and replace another new one.
Maintenance
The tiles are not very strong. If a heavy object falls to the ground, it may crack or break. In that case, you need to replace a ceramic tile. Finding a ceramic tile of the same colour and lot can be challenging. Therefore, extra tiles should be kept as spares during floor installation. Old design tiles are being replaced with new designs very quickly.
What is the Difference Between Porcelain Tiles and Ceramic Tiles?
The two most popular types of tiles are porcelain and ceramic. Check out the differences between the two types of tiles and decide which one is best for your home.
What are porcelain tiles and ceramic tiles?
Porcelain tiles are fired at higher temperatures for longer than ceramic, making them more durable, dense, and completely water-resistant.
Ceramic tiles are more delicate and less porous to absorb water easily.
| | | |
| --- | --- | --- |
| Key Points | Porcelain tiles | Ceramic tiles |
| Durability | Known as the most durable type of tile on the market, porcelain is harder, denser, stronger and less porous than ceramic tiles. | Ceramic tile is not as durable as porcelain. |
| Budget | Porcelain is a quality tile, quite heavy, takes a long time to install and is often expensive. | Ceramic is a more affordable option. The flooring itself is not only a more budget-friendly decision but so is the installation. |
| Appearance | The porcelain's colour and design are applied to the whole body. So if they're missing, it's not so obvious. | The design and colour of the ceramic tiles are imprinted on the surface and protected by some kind of glaze. Therefore, if these tiles are missing, the tile body will be of a different colour from the surface and will be more prominent. |
| Made of | Porcelain tiles are made from fine natural clay. When the mixture is ready, it is moulded, pressed into the desired shape, and cooked for a long time at very high temperatures to remove almost 100% of the water. | Ceramic tiles are made using a heating furnace after moulding. Baking the tiles attracts moisture and helps the tiles create a lightweight quality. |
| Best Uses | Porcelain tiles are generally durable and can be used as exterior walls, countertops, and even flooring (both indoors and outdoors!). | Ceramic tiles are more delicate and ideal for low-traffic areas. With a wide variety of colour and design options, it's perfect for accent walls and the back of the kitchen. |
Note: If you are looking for tiles that are easy to maintain, long-lasting and have a luxurious appearance, choose porcelain. If you need more budget-friendly, water-resistant, and installation-friendly tiles, ceramics are the way to go.
Ceramic Tiles Vs Vinyl Tiles
Here we are going to compressing between ceramic tiles vs vinyl tiles. Let's start reading carefully.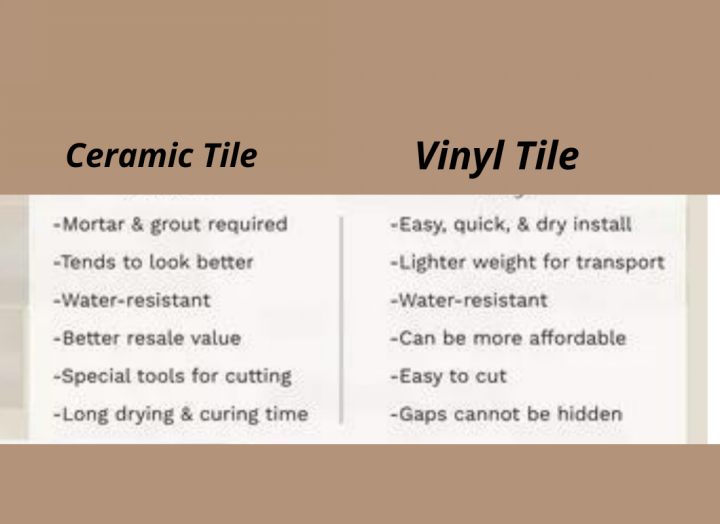 Construction
The Major Difference between vinyl tile vs ceramic, is that the vinyl sheet is thin and made from PVC plastic with a high-quality backing (fibreglass) and finally covered with printed designed layers and a transparent wear layer. Next, the vinyl tiles are cut in a standard size, approx 9 to 18 inches across. Yet the luxury vinyl tiles are thicker and stronger flooring types installed with a click and locking system. These LVT flooring types come in tiles and planks, and these are more prestigious than standard vinyl tiles and are also more expensive.
On the other hand, the Ceramic tile is constructed with real and natural earth clay material that is further mixed with other ingredients and a surface glaze. This process also passes from firing in ovens to hardening them. And porcelain is more harder and reliable due to its finer clay material construction and fired at higher temperatures.
Water and Heat Resistance
Both flooring types have great heat and water resistance capability.
Vinyl and ceramic are completely waterproof materials. Although the strongest installation makes it waterproof, it may create moisture in the underlayment. Sometimes, LVT planks may create moisture under the subfloor because they are not tightly fit as the vinyl tiles. However, the vinyl itself is entirely waterproof.
While the Ceramic Tiles are impervious to water and heat damage, they also have seams that can allow moisture to seep down to the underlayment and subfloor.
Care and Cleaning
Both floors are very easy to clean. These do not require a tough cleaning method and don't need regular sweeping. You need to clean these materials using simple sweeping with periodic damp mopping. You can also use a mild soap solution that is enough to care for both flooring materials.
But from our point of view, the vinyl tile is easier to keep clean than ceramic tiles. Because the vinyl doesn't have grout lines that cause mildew or stain, but with ceramic tile, grout lines can get dingy, and it's only possible to clean with a good scrubbing with a high-quality grout cleaner that must have bleaching ingredients.
Durability and Maintenance
Vinyl and ceramic tiles have different life spans, but both are about 20 years under normal use. But if we compare vinyl flooring, this is soft and not enough harder than ceramic that's why this is susceptible to gouges and scratches.
On the other hand, ceramic tiles are much more durable and reliable than vinyl tiles because they are made with finer clay material that is extremely stronger and has 40 years or more lifespan. Furthermore, the damaged tiles can easily be replaced with another new one. So, the Ceramic tile comes with hard material with excellent durability.
Cost
Vinyl tiles and ceramic tiles come with different price tags according to thickness, brand and durability. The durability and design have affected the process range. In general, vinyl tiles are less costly than ceramic tiles. Because vinyl tiles offer less durability and come in cheap price ranges. The installation process is also easy due to the self-adhesive method. The vinyl tiles generally average $1.50 to $3 per square foot.
And the ceramic tiles start with $1 for plain tiles and $5 to $20 per square foot for designer Priceline tiles.