Today vinyl flooring is more demanding due to its low maintenance, versatility, warmth, and smoothness. It has become an excellent choice for every room in your home. So, here we explain some tips and tricks on how to install and clean vinyl flooring. These tips make it durable and protect them from stains and scratches.
The vinyl floor is DIY-friendly and easy to care for. Before buying vinyl, you have to know about installation and cleaning methods deeply. Here firstly, we discuss some important instructions for installation. After this, you will learn about vinyl floor cleaning methods. So, scroll down and learn all instructions carefully.
Keep Note:
Vinyl installation is very simple and DIY friendly but making it durable and reliable. Before installation, you should remove any cork, foam, linoleum or carpeting, from the surface. Also, make sure before putting down your new vinyl floor the surface is completely dry, then you will get the best result.
How to Install Vinyl Flooring
Actually, based on a wide variety of designs and styles, vinyl Flooring flooring has a ton of installation options. Every place is different and has a different surface. If you choose vinyl planks, then we guide you on how to install vinyl flooring.
But if you choose vinyl planks flooring, it can be installed with four main methods: peel and stick, glue down, interlocking, and loose lay.
Requirements:
Vinyl flooring required 1-2 days for finishing.
Tools that you should have for vinyl flooring installation
Fine-notched trowel
Hand roller
Utility knife
Putty knife
Measuring tape
Handsaw
Masking tape
Plywood
Vinyl flooring
Adhesive
Patching compound
Builder's craft paper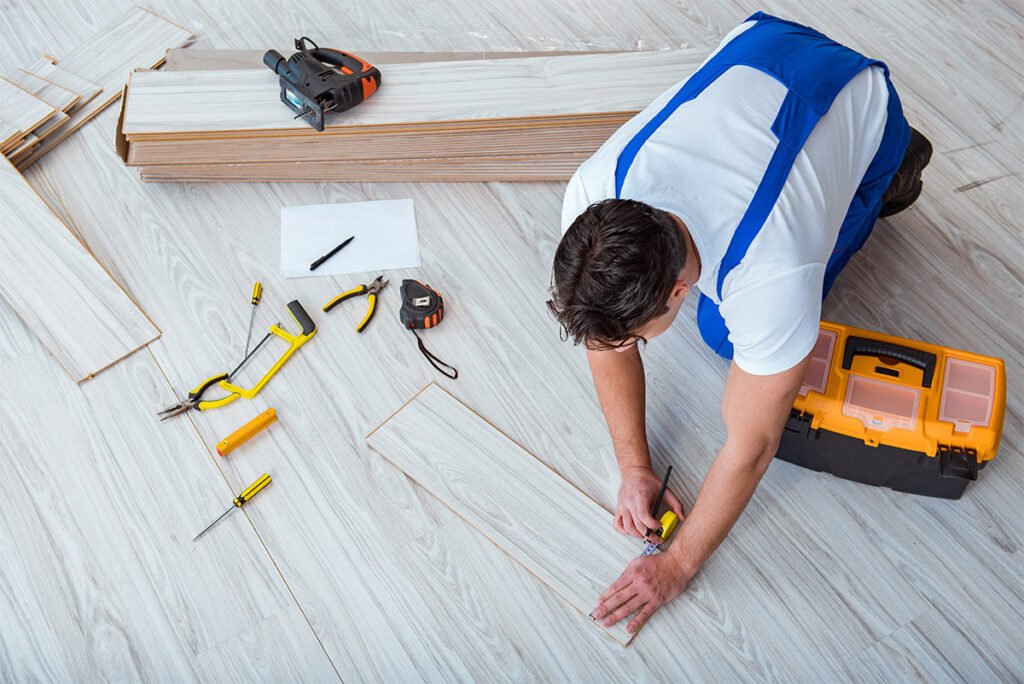 Step1:
First, you have to choose the vinyl type that you want to install in your room.
STEP 2:
Now measure your room to make sure the measurements are accurate. If you can't do this, get help from a vinyl store retailer. They will guide you and figure out how much vinyl is needed.
Tips: We suggest buying some extra material for trimming, cutting.
STEP 3:
Next, smooth your subfloor surface and make sure it is in good condition before laying vinyl. Vinyl Flooring needs a flat, smooth, and dry surface for installation.
Tip: If you trim a door frame, then vinyl can fit perfectly underneath the door space.
STEP 4:
Now layout vinyl flooring and mark those areas where it does not fit perfectly and spare part of the vinyl cut out. You can use a utility knife for vinyl cutting. Use masking tape for any corner that is cut. It will protect the corner from tearing in any vinyl move positions.
Now lay down vinyl on the surface in its final application. And remove all excess parts around each wall. Make sure the cuts should be straight.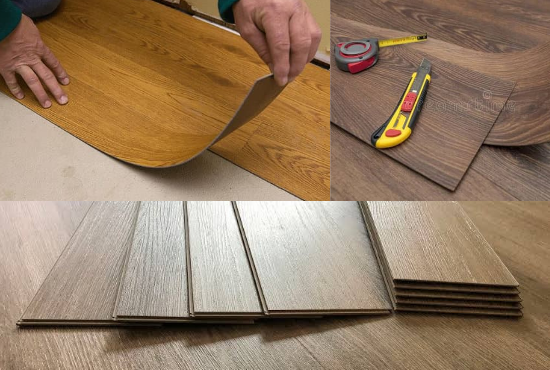 Tip:
You can use excess vinyl in other rooms, like the laundry, kitchen, or small guest room.
STEP 5
Now create a partial sketch by using craft paper cut into larger strips. Now cut out any corner space on paper. Continue this method until you have covered your entire room. Now tap all strips one by one and use very little masking tape. It helps to keep the craft stable and avoid moving on the floor.
STEP 6:
If you want a smooth flattened surface, then apply Underlayment on the subfloor. The underlayments are ¼ inches thicker, and that provides smoothness when you walk on the floor. Now cut plywood that perfectly fits in the room.
Tip:
For Underlayment, use only floor grade Underlayment like plywood. After cutting in the shape of a papercraft, then adjust them in the room and leave it for 36-48 hours. It will help to adjust according to room moisture and humidity and prevent Future tearing.
Step 7:
After 48 hours, Now install the underlayer, fix it with ⅞ inches staples and use 14-16 staples for each underlayer.
Step 8:
For smooth and perfect durable finishing, use leveling compound and fill in all strips spaces and any cracks in the underlayer.
Step 9:
Now, according to the vinyl types which you buy. It has a different application process; there are two main types of vinyl: self-sticks and glue down. If you have self-stick vinyl, it's straightforward to use over the glue down. Self-stick vinyl already has thick adhesive on the back of which you can stick it on the floor. But for the glue-down method, you need to spread glue on the subfloor and lay vinyl on one by one.
Luxury tile vinyl is unglued, and that is why we follow the glue-down application process. Now make another sketch of vinyl and cut with a tile cutter. That will be easy to lay on the floor.
Step 10:
Spread the adhesive on the floor by using a paint roller or trowel. Start with the corner of the room. It's easy to handle. After spreading glue, could you wait for a few minutes and set it out?
Step 11:
Now lay down the vinyl tile one by one and align it perfectly according to the previous tile. Keep in mind after laying tile, don't move it or slide. Press vinyl tile by rolling pin, or use another flat rolling that easily sticks the tile to the adhesive.
Continue applying the vinyl and Repeat method in sections.
Step 12:
After this, leave it for 1 to 2 days for dry adhesive completely. Now set your all furniture and walls corner and enjoy a luxury vinyl flooring lifestyle.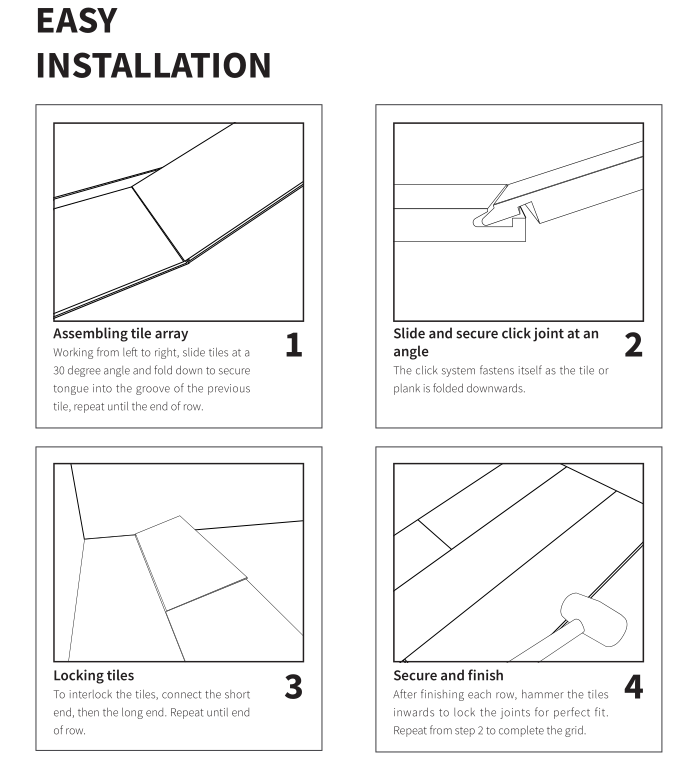 How To Clean Vinyl Flooring?
You can give a sharp and clear look to your floor by using some homemade natural Ingredients such as vinegar, baking soda, etc. Vinyl flooring gives you a hygienic environment and prevents any infections if you clean it regularly. So, keep your floors clean and hygienic.
Although, Vinyl flooring cleaning is not difficult. It required straightforward cleaning regularly. Here are some method of cleaning ways: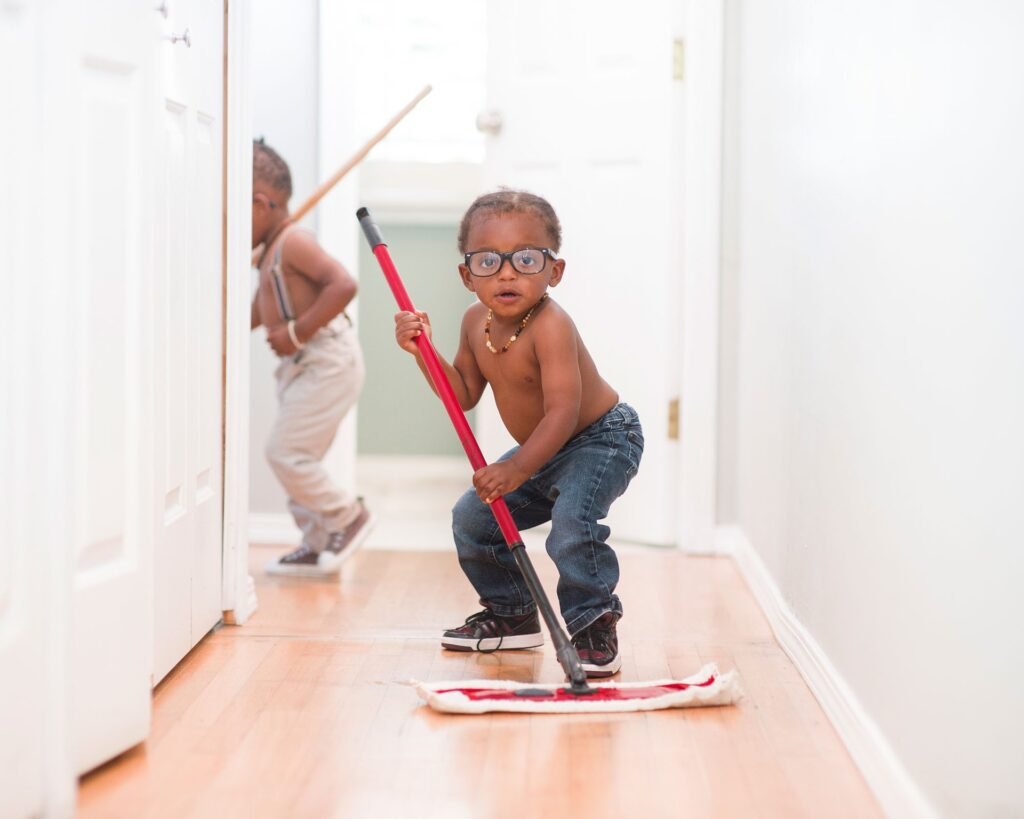 Basic / Regular Vinyl Flooring Cleaning Methods
You can clean vinyl floors using simply wiping or vacuum cleaners.
For only dust or dirt, you can use vacuuming regularly. It helps to avoid dust and stains and makes it easier to maintain.
The next thing you have to do is once a week. Is wiping. You can wipe your floor with a quality damp mop even though you can use a wet cloth for cleaning the vinyl floors.
If it does not feel your floor clear, then add some detergent in warm water, dip the cleaning cloth, and swap all dirt with this. After this way, you can see a clear difference, and your floor looks sharp.
Make sure you don't use lots of water for cleaning because it will damage your floor.
Deep Cleaning Methods
If you face stain issues, then treat stains immediately.
Here are some ways to remove stains easily and quickly with natural homemade ingredients.
For tougher stains on the vinyl flooring looks terrible. If it is spotty, then remove it by using detergent on a wet sponge.
It's easy to clean without applying any force. After wiping with detergent, swap it with a clean, warm water nylon pad.
But if you have a tough stain and do not remove the only detergent, follow these other methods.
Cleaning Tips for Different Types of Stains:
The tough stains like ink, blood, green vegetables and tomatoes on the vinyl floor look bad. You can remove it by using diluted alcohol. Put a small amount of alcohol on the spot and leave it for a few minutes, then wash it with clean water.
Suppose you have an oily stain on the vinyl floor that looks very bad and causes discoloration of the floor. Don't worry, and it will be removed easily. Just take some warm water and add neutral detergent to it. Mix it, and with nylon pads, remove the stain; it will be conducive.
If you want to remove vinegar or lemon stains on the surface of the vinyl floor, it will also be removed by warm water or a neutral detergent solution.
Keep in mind that don't scrub the floor with a hard sponge.
Extra Cleaning Tips For Maintain Vinyl Floor:
First of all, after installing the vinyl. The floor you must have to care for and prevent any dent and scratch through your furniture. So, make sure to keep lightweight, protective pads under the furniture legs.
Avoid hard sponge or scrubber for cleaning.
Use soft and less chemical detergent that keeps the floor's natural color and prevents discoloration of the vinyl floor surface.
Keep aways heated items from the vinyl floor, like heater, ashes, coals, etc.
Do and Don'ts For Cleaning Vinyl Flooring:
Do Cleaning vinyl floor with
You can use cleaning tools for vinyl cleaning. Here are some Best Tools for Cleaning Vinyl Floors, including
Vacuum
Soft bristle brush
Gloves
Brooms
Warm Water
Wet sponge/nylon pads
Light detergent
Apple cider vinegar
Damp-mop
Sweeper
Diluted Alcohol
Baking soda
Don't clean vinyl floors with:
Oily items
Black soap
ammonia
Wax or polish
Steam
Heating
Hot water