Everyone is looking for cost-effective, easy care and maintenance flooring options that enhance the beauty of the interior and can last for many years. Here we will detail a review of two types of floors: laminate and vinyl. These are very common in the market nowadays. If you decide to install one of them and have no idea which one is best suitable for your home. Then look at our laminate flooring vs vinyl flooring guide that helps you to choose the best ones according to your needs.
The appearance of both laminate and vinyl flooring are the same. That is why it can be difficult to find differences between them. Both are affordable, man-made, and come in huge varieties of styles and colors.
Laminate Flooring
Laminate Flooring is a versatile product that is made of fine Harwood material. Its highly scratch-resistant, simple installation properties and budget-friendly option make it the best flooring choice among homeowners.
No doubt, it's a fantastic, cost-effective option for you, and with a tight budget, you can make your place stylish and modern easily. Plus, laminate flooring is best for high-traffic areas.
Laminate Flooring Pros and Cons
Its realistic wooden base looks very popular in the market. Although it performs well when it comes to moisture, some laminate flooring types are not recommended. It seriously flops or damages if the water sits on them. Here we discuss some advantages and disadvantages of laminate flooring.
Pros
• The major benefit is its smoothness and comfy feeling.
• The thicker composition makes it durable and reliable
• It can last up to approx 10-15 years
• Feel warmer and smooth to walk
• Best suitable for living rooms, bedrooms, dining room,s, and offices
• Its excellent embossing looks like natural wood
• It has a vast range of styles, colors, and patterns
• Many homeowners use laminate flooring for dining rooms, entryways, living rooms that make it wide visibility.
• If you have a tight budget, it's best for you. You can replace your floor with a fresh and styling design.
• Easy to install
• Laminate is easy to clean and maintain.
Cons
• It is not the best moisture and waterproof.
• It cannot be refinished.
1. Under normal circumstances, laminate flooring can be used for about ten to fifteen years, if well maintained, it can even be used for twenty years. Laminate flooring can be used for several years, and generally needs to be determined according to the floor installation method, floor substrate, floor installation environment, floor usage and other aspects.
2. If it is the laminate floor under the bed, it can generally be used for about 15 years. If the laminate floor is laid in the aisle or living room, since the floor is often trampled on, the service life will be shorter and it can only be used generally. About ten years.
3. If the service life of the laminate floor is to be extended, then in daily life, the laminate floor must be kept dry and clean, especially when mopping the floor. Do not let the water droplets on the mop fall on the floor and cannot be used. Alkaline water, soapy water, etc. clean the floor, otherwise it will easily cause the gloss of the laminate floor to be destroyed.
4. Laminate flooring cannot be immersed in water. If water is accidentally poured on the floor, you should use a dry mop to mop the water clean in time to keep the floor dry and clean. If there are stains on the floor, generally you can only wipe the floor with a mop that will not drip.
5. If you want to clean the spots and stains on the laminate floor, you should generally use a special cleaner to wipe it, but you must never use items that will damage the performance of the laminate floor, such as: iron wire, hard brush, bleaching powder and many more.
Vinyl Flooring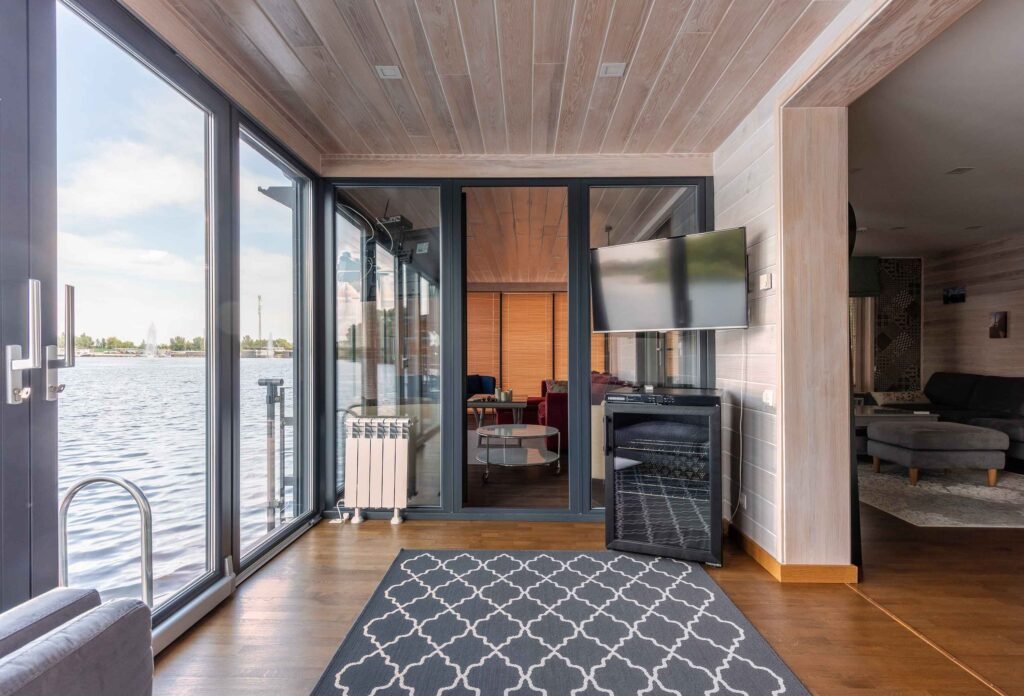 Based on appearance, the vinyl planks look like laminate flooring. Vinyl looks like a solid hardwood floor and is easily installed in any space without a hefty price tag.
Vinyl flooring is made from 100% fine plastic material. It performs super in any place and is best with moisture and water resistance. If you use it for bathrooms and kitchens where water sits for long periods, it won't damage the surface and can last for last.
Vinyl Flooring Pros and Cons
See the other advantages and disadvantages of vinyl flooring.
Pros
• 100% Waterproof
• Easy to install , DIY-Friendly
• Best for moisture and water resistance
• Best for all spaces kitchen, rooms, offices, bathrooms,basement, such residential areas and high traffic commercial areas
• Some vinyl looks like stone, tiles, and real wood.
• It usually comes with a 15+ year warranty
• Highly durable and reliable
• Allows seamless layout
• Is removable and easily replaceable
• Warp-resistant
• Is flame retardant
• The termites will not get into your home
• pet-friendly
• Safe for children
• Suitable for humid environments
• Fire-resistant and highly durable
• Can be used immediately without any acclimation
• The wood is completely safe from any wood-destroying organism
• The material is dense (1,5) and strong in its load bearing capacity
• Its high stability makes it ideal for places with a high foot traffic like malls, where it does not rot, crack, or bend.
• The device is easy to replace at any time, without producing dust or waste
• You don't have to consider dye lots when completing a job
• In the bathroom, it can be used forever since it is water-proof
Cons
• Some customized types of vinyl, like top luxury vinyl planks, are costly.
Vinyl vs Laminate Flooring:
Here are some differences that help to choose the best flooring that perfectly suits your space.
Major Differences
Both floorings are easily installed on any surface, but against the moisture hinges, the laminate flooring may or may not be durable. Vinyl flooring is wholly synthetic and can quickly go anywhere, but the laminate flooring has limited moisture resistance and can install only in selective areas. Some shows here.
Recommended Installation Areas
| | | |
| --- | --- | --- |
| Area | Laminate Flooring | Vinyl Flooring |
| Bed Rooms | Yes | Yes |
| Dining rooms / Living rooms | Yes | Yes |
| Powder rooms | Yes | Yes |
| Bathrooms / basement | Not suitable | Yes |
| Kitchens | May not | Yes |
Appearance
Laminate flooring installation is done by its deep, realistic, and three-dimensional embossing methods. The huge versatility in colors, textures, and styles with different price tags is available in the market. Laminate floor planks begin to portray wood, stones, and ceramic-style material.
The vinyl floor planks have many varieties according to textures, styles, and designs. It looks realistic, especially its luxury flooring and appearance looks more like wood.
Water and Heat Resistance
There are many types of low-price flooring available in the market with different features and qualities. All are not best for water and heat resistance. But no doubt all flooring types are good waterproof. Here are some most popular types are
Vinyl Tiles
Sheet vinyl
Luxury vinyl planks
These are 100% waterproof and best suitable for bathrooms and kitchens.
Durability
Laminate Flooring is fairly reliable and durable, and it is best suitable for everyone who searches for durable and reliable flooring in a low price range. Laminate flooring has a great warranty, and they will go 10-15 years for last. If you make it more durable, then proper maintenance will last for over 15 years. Keep in mind it's not the best for moisture and water resistance. That is why we do not recommend it for bathrooms, basements, and kitchen areas.
Vinyl Flooring of all types has up to 15 years long warranty, which is impressive and best suited for all spaces. It also depends on the type of installation. If you want glow-down vinyl flooring, then it can last for 18-25 years. In comparison, the interlock method of installation can go about 15-20 years with good maintenance.
Stain Resistance
Laminate Flooring installation methods are simple and easy. Laminate floors installed with pressure-laminate with multiple layers methods the first layer is super stain-resistant and transparent aluminum oxide quality.
In contrast, the Vinyl Flooring is coated with transparent urethane layers with good stain and water resistance and best suites for kitchen bathrooms and basements. comes with coated
Comfort and Sound
Whether you buy laminate flooring and vinyl flooring, they are realistic Wood and look warm, smooth due to several premium Quality layers. If you want comfort and no sound flooring types, then laminate flooring is best for you. It doesn't provide any sound so that you will feel smooth, comfortable with it.
Any type of Vinyl Flooring is cold and hard. It doesn't give you a comfortable, smooth feeling. But it's the best water and heat resistant.
Installation
While the laminate flooring installation is similar to the luxury vinyl planks, the appearance is close to luxury vinyl planks. The main difference is that the foundation, the laminate flooring, is made of hardwood and bonded with resins. Its first layer is hard, and next is a transparent plastic layer covered with printed design and texture according to your choice. The overall thickness of laminate flooring is from 6-12 mm.
Vinyl offers many installation methods such as glue down, click and lock planks, peel and stick planks and some more. Simple vinyl flooring is a little pretty to install. Still, the sheet vinyl and other luxury vinyl flooring are difficult to install because they require heavy cutting for shapes and sizes according to your space.
Material
Vinyl is made of 100% synthetic material. After wearing multiple layers, the installation is easy, and a final scratch-free printed, and embossed surface comes.
The core layer of vinyl planks is thicker with multiple PVC layers the overall thickness of vinyl flooring ranges, including luxury vinyl planks 1.5 mm to 5 mm.
Maintenance
Laminate and vinyl flooring are easy to maintain. You can clean with sweets and vacuum. Both floorings did not require waxing and beater or bristle bars. A damp mop is enough to clean laminate flooring. A damp mop excess moisture and prevent it from any swell of damages. It is also beneficial to reduce swelling issues.
Vinyl flooring can be damp mopped. It is not affected by moisture if the water sits on them for long periods. Both are stain-resistant and do not need any special cleaning and maintenance.
Conclusion
Currently, vinyl flooring is the most popular option because it is safe since no glue is inside, it's extruded directly into the floor. Additionally, it is easy to clean. As needed, sweep, vacuum, or mop. These floors do not require special cleaning materials or machinery to maintain their appearance.
In a broad sense, if you look for highly durable and reliable products, then vinyl is a better choice. It's also water-resistant and has a long lifespan. Meanwhile, laminate is only interchangeable in high moisture cases.Therefore, vinyl does best against excess moisture and spills, as well as being less expensive than laminate.