It's important to know for every homeowner they are using the correct underlay for your Wood Floor/Vinyl Flooring installation.
Do I need an underlay on my vinyl floor? 
Underlay installation is important to vinyl floors for several reasons. Not only do you want to put it under your new floor for cushioning, strength and protection, but you also want your floor to stay in place and last longer. Those who do not install underlays run the risk of floating floors by attaching LVP flooring directly to a plywood subfloor or concrete subfloor. This can cause the locking mechanism to slip, damage the floor over time, and many other problems.

Furthermore, if your ground floor is not a perfectly prepared wooden floor. In that case, an underlay is the best choice for serving a variety of functions within the buildup, including moisture control, soundproofing, and even smoothing and comfort while underneath the feet. A perfect underlay helps to smooth out minor lumps and bumps.

A wrong underlay may damage your floor and shorten the life of the flooring. Here are some common underlays that are most demanding and commonly used in flooring installation such as

● PE Foam & Plastic Sheet
● Acoustic Underlay
The acoustic underlay is the heavyweight natural rubber, specially formulated for engineered wood and laminate flooring underlayment, that gives superior performance in any installation. This is suitable for both wood and laminate flooring installation.
When it comes to wooden flooring, noise and vibration issues occur, and they should be minimized by using these types of flooring underlayment.
Our best overall type of Underlay for wooden flooring installation is pearl cotton moisture-proof film. Below we will discuss this in detail because of its highly demanding product and huge positive customer reviews.
PE Foam and Plastic Sheet
A proper underlay is essential for laminate floor panel installation to avoid panel problems and void the factory warranty. The minimum required underlay is 0.17 mm thickness of the plastic sheet (polyethylene sheet) as a moisture barrier and an additional 2 mm thickness of polyethylene foam (acoustic foam OR pearl cotton foam) for insulation purposes.
Product Description
| | |
| --- | --- |
| Product Name | Pearl cotton moisture-proof film or Floor Protection Film |
| Application | Decoration, Decoration Protection, Floor Tiles, Marble, Wood Floors |
| Thickness | 0.33mm Or Customized Thickness |
| Colour | White, Blue, Yellow Or Customized |
| Material | Contains low density polyethylene grease by physical foaming to produce numerous independent bubbles. |
Features:
Extends the life of the carpet.
It prevents the transfer of heat and cold from the floor to the carpet.
Moisture proof and waterproof
No glue applications required
It provides a silent step to reduce noise transmission in multi-layered buildings.
It soothes the feet.
What is EPE Cotton?
EPE stands for ( Enhanced Polyethylene (resin) ). Foam sheet is a kind of new-type packing material also named pearl cotton. It is a closed cell flexible foam well known for: Smooth appearance. Chemical resistance. Strength and flexibility with excellent cushioning properties and an ideal substitute for traditional packing materials with many advantages of damp proof, shockproof, sound insulation, heat preservation and good plasticity. As a new type of packing material, it is widely used in packing fruits, instruments, bags, luggage, shoemaking, household appliances, electronic products, flooring, walls, protection sheet liner hardware, furniture, etc.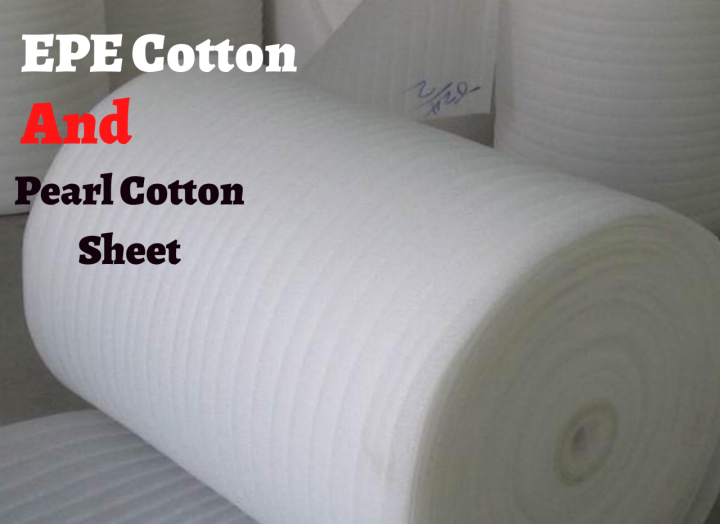 Polyethene foamed cotton long and short cross-linked closed-cell structure, also known as EPE pearl cotton, is a new environmentally friendly packaging material. It consists of low-density polyethene glycol by physical foaming to produce myriad independent bubbles. It overcomes the shortcomings of standard styrofoam, such as fragility, deformation and poor recovery. It has many advantages, such as water-proof, moisture-proof, shock-proof, sound-proof, heat-insulating, good plasticity, toughness, reincarnation, environmental protection, strong impact resistance, etc. It also has good chemical resistance. It is an ideal substitute for traditional packaging materials.
Because it has special strengths, it not only does not pollute the environment but also can be recycled and reused. Therefore, EPE pearl cotton foaming material is a new type of material that never fades. With the progress of time and the continuous development and application of products, EPE pearl cotton foam materials will be more widely used in packaging and filling materials. Thus it is an ideal alternative to traditional packing materials.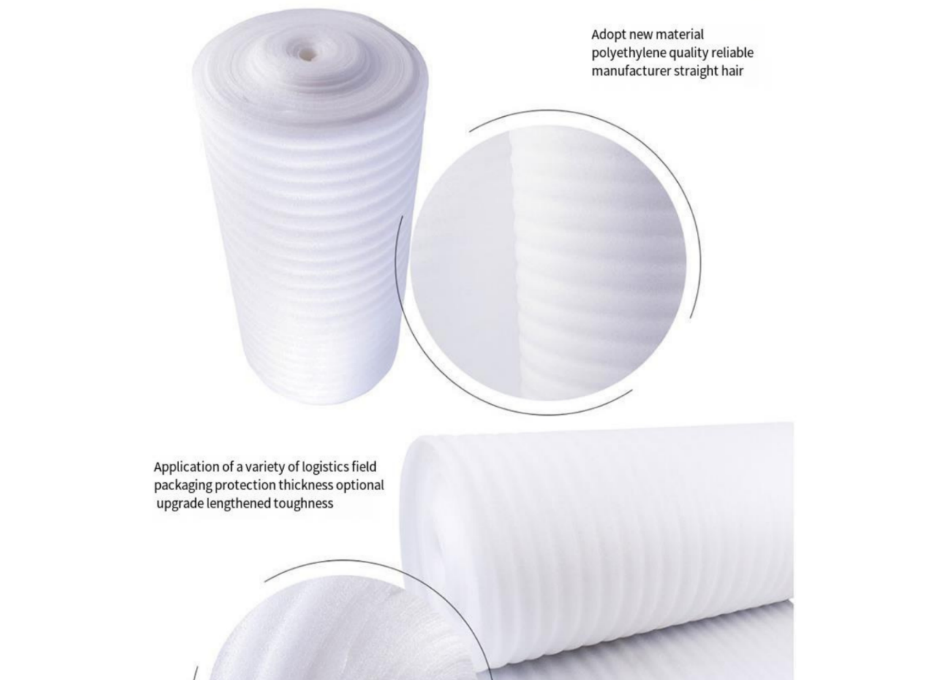 Uses & Application:
It is widely used with different varieties of material in car cushions, pillows, electronic appliances, instruments and meters.
Another form of cotton pearl is used in acoustic equipment, medical equipment, household appliances and other household furniture and property.
The cotton pearl thin form is also used in the packaging of gifts such as liquor and resin, hardware and inner packing of leather shoes.
They are cushioning and packaging materials for electronic equipment.
Insulation materials for agriculture and construction purposes.
Expansion joint filter, under-roof insulation, wall insulation, dust insulation.
Flooring as a liner.
Warm quality foam sheets help to protect flooring decorations.
Pipe insulation for thermal and acoustic applications.
What Is Pearl Cotton Used For?
Many decorative companies use the linear between the specific and ground floors, a protective layer installed mainly in bedrooms, gyms, and living room areas.
This film mainly plays the role of moisture-proof and heat-insulation. It is a soft, flexible material. So, not rigid. If a mattress is put on top, it will flatten, meaning the thickness will decrease because of pressure.
EPE Foam is a lightweight, semi-rigid, flexible closed-cell foam, most commonly used in packaging for impact and shock absorption, vibration dampening, and surface protection. It is also used in some gym floor mats and foam gym equipment. EPE foam cells are versatile, easily shaped, formed, rotted, and cut to any site. It is dust-free, non-abrasive, inert, and resistant to fuel and oil.
How to Choose a Good Floor Moisture-proof Membrane?
As its name implies, this protects your floor from stains and moisture. The moisture-proof membrane's primary function is to prevent moisture and keep warm. Since this is waterproof, it can play the role of a moisture barrier. The wood floor moisture-proof film is the interlayer between the floor and the ground. It is laid close to the ground and mainly plays the moisture-proof role, protecting the floor, increasing elasticity and levelling the ground.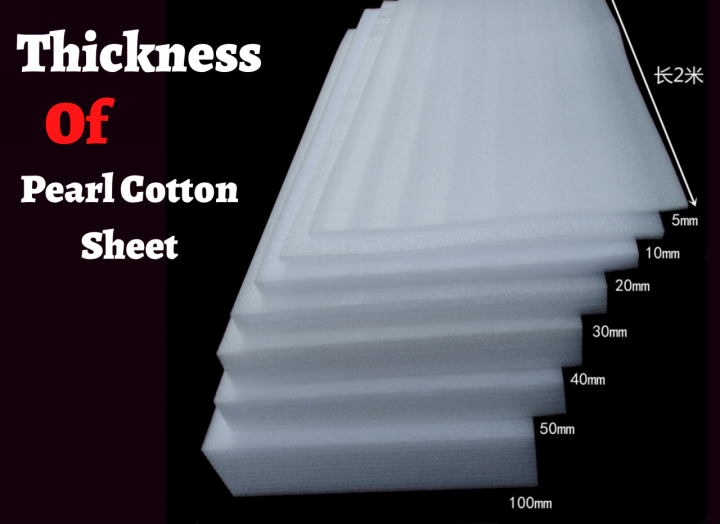 Generally, the thickness of moisture proof film is about 2-5 mm. We have been producing pearl cotton moisture proof film for many years. The floor moisture proof film consists of a layer of PE film on an outer layer of pearl cotton material. After compounding the PE film, the tensile strength of pearl cotton can be increased.
Before decorating and installing the floor, the pearl cotton EPE laminating roll should be laid to separate it from the surrounding skirting boards and release moisture. It should be in close contact with the back of the floor. A layer of substrate should be placed over the invert to hold the protective coating to ensure it is in close contact with the back of the floor. In this way, moisture in the ground, wood nails and air can be effectively prevented from entering the floor from the back side of the floor, and the problem of deformation of the solid wood floor tile (bamboo floor is also suitable) is) can be fully resolved. The moisture resistant floor membrane is not very thick.
Therefore, the thicker the moisture-proof film is, the better. Generally, it can play a good role in isolating moisture and balancing when it is controlled at about two millimetres. If it is too thick, the wooden floor has a lot of room for manoeuvre, and it is easy to arch over a long time.
What are The Advantages of EPE Cotton Pearl Film?
It protects water and water-based stains.
It Promotes a soft hand and preserves perfect breathability.
High abrasion resistance
Air–dry capability
Where is The EPE Helpful?
The combinations of EPE and various fabrics are suitable inner-decoration materials for all kinds of vehicles and rooms.
The composite of EPE pearl cotton and aluminium foil or aluminium-plated film has an excellent capacity to reflect infrared and ultraviolet and is, therefore, an indispensable material of refrigerators in the chemical industry, camping equipment, and car sunshades.
EPE pipes are widely applied in air conditioners, strollers, children's toys, household properties, plumbing and ventilation, and other industries.
Reason For Choosing EPE Pearl Cotton Foam?
The main reason for choosing the EPE cotton foam it's the best environment friendliness and recyclability properties that make it a new-type, promising material. As the development and application of this product continuously advances, EPE pearl cotton foam material will be applied more widely as packing and filling material in the future. The primary use of EPE foam as a protector for floor lying and with size thickness, depending on your needs.
It's constructive to protect the product and keep it moisture proof and safe for a long time. This is also the best packing and filling material that provides you with exceptional results in case of friendly environments.
The superior properties of a new type of foam material have been recognized by more and more people, leading to its continued wide and innovative application. Compared to traditional materials, it is a cheaper, higher grade, more beautiful and more efficient material with better performance, especially in industries like packaging.
Moreover, using only the pearl cotton film laminating machine and the compound machine, the EPE pearl cotton foam sheet also has its surface combined with HDPE film, aluminum plated film, plastic coated paper, plastic coated cloth, etc. can be further processed.
The film-coated EPE sheet has not only improved the mechanical strength and other basic properties, and these foam sheets are widely used as the inner packing material of cases, life jackets, floor warmers, foot soft thermal insulation floors, moisture-proof floors.
What is Aluminium-film Pearl Cotton?
Aluminum film pearl cotton is a new environmental protection packaging material and an ideal substitute for traditional packaging materials. Aluminium film insulation bags are generally made of pearl cotton above a layer of metal aluminium called coated pearl cotton.
Construction
Aluminium film pearl cotton is composed of numerous independent bubbles formed by the physical foaming of low-density polyethene fat, which overcomes the shortcomings of fragile deformation and poor recovery of ordinary foam rubber.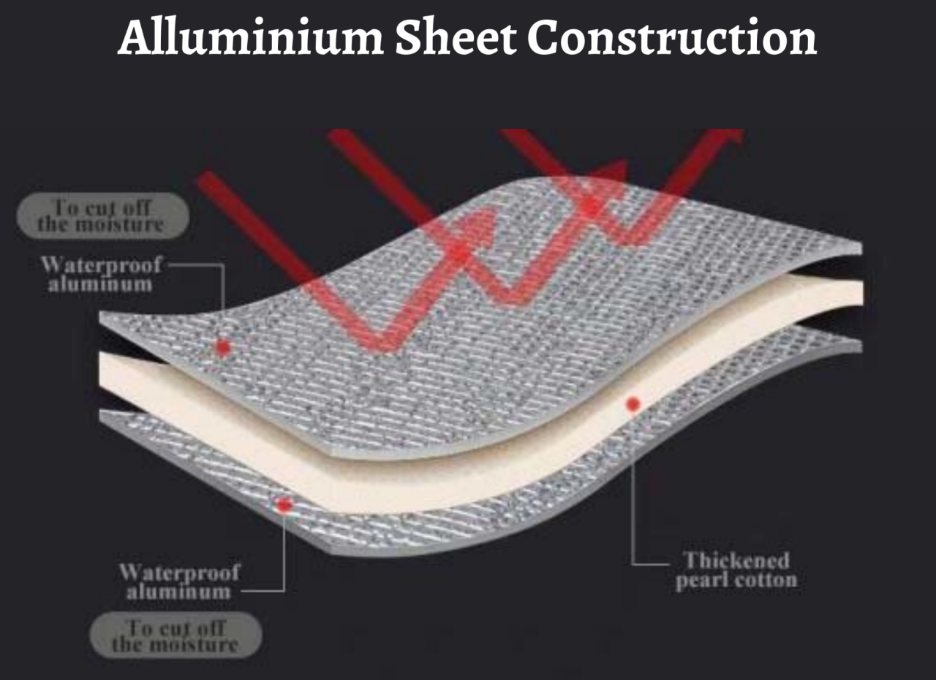 Aluminium film pearl cotton can be divided into single and double-sided aluminium films. The heat insulation effect of double-sided aluminium film pearl cotton is much higher than that of single-sided aluminium film because the process of heat transfer is a two-way interaction, one side transmits heat energy, and the other absorbs heat energy. The double-sided aluminium film pearl cotton slows down the transmission and absorption of heat in isolation. The advantages of aluminium film insulation bags are as follows:
Advantages of the Aluminum Cotton Pearl
It has water-proof and moisture-proof qualities.
It's also the best shockproof and sound-proof protective sheet.
This provides good plasticity, strong toughness, recycling, environmental protection, strong impact resistance, etc.
It also has good chemical resistance.
Where To Use it?
Aluminium film heat preservation bags are widely used in electronic appliances, instruments and meters such as lighting, crafts, computer, acoustics, box, glass, ceramics, etc.
This membrane pearl cotton elastic lining can also be used for bags, industrial production of sound insulation, insulation materials, sports protective MATS, flooring, Marine operation rescue equipment, home, and hotel floor decoration, packing, etc.
The use of this material has become more common in all walks of life, and the enterprises that produce and use the material have obtained good economic benefits, and the results are undeniable.
Physical and chemical properties:
 30-40 times high foam forming products, lightweight and a certain firmness
Very soft and cushioning
Very low thermal conductivity, excellent thermal insulation
Bubble material with independent bubbles, almost no water-absorbing waterproof material
High foaming and outstanding water resistance, making it highly buoyant
Not subject to aggressive and corrosion-resistant materials
Not affected by various weather conditions, weather resistance is superior
Excellent processability for cutting, bonding, extrusion, vacuum forming, compression forming, etc.
Fine bubble foam material, smooth appearance, colourable, feminine effect